Your IT Department. In A Box.
Technology should never get in the way of your business. It should only be there to provide you and your employees with the tools you need. For IT departments, this isn't always easy. It takes a combination of the right systems, software and components to make things work, not to mention the never-ending cycle of upgrades and maintenance routines.
So why not take the heat off your IT department and give them a solution they don't have to keep fixing? Something that takes nearly everything they do and packages it nicely into a single device. We've created just that, and it's called AppEazy. With AppEazy, we're trying to place the emphasis on what's most important to businesses - applications. The sophisticated software that businesses depend on are like the tools in a toolbox. Without easy access to the tools, employees simply can't do their jobs. AppEazy not only makes it simple for businesses to deploy their most crucial applications on their systems of chioce, but also solves some of IT's toughest problems all in one box. Best of all, it's packed into a plug-and-play solution that allows your IT department to work on things that really help your business, instead of just keeping you afloat.
We've packaged AppEazy into six different systems that should fit nearly any small or mid-sized business. Let us know what we can do to find a system that fits your businesses needs. Shoot us an email at sales@applianz.com if you have any questions.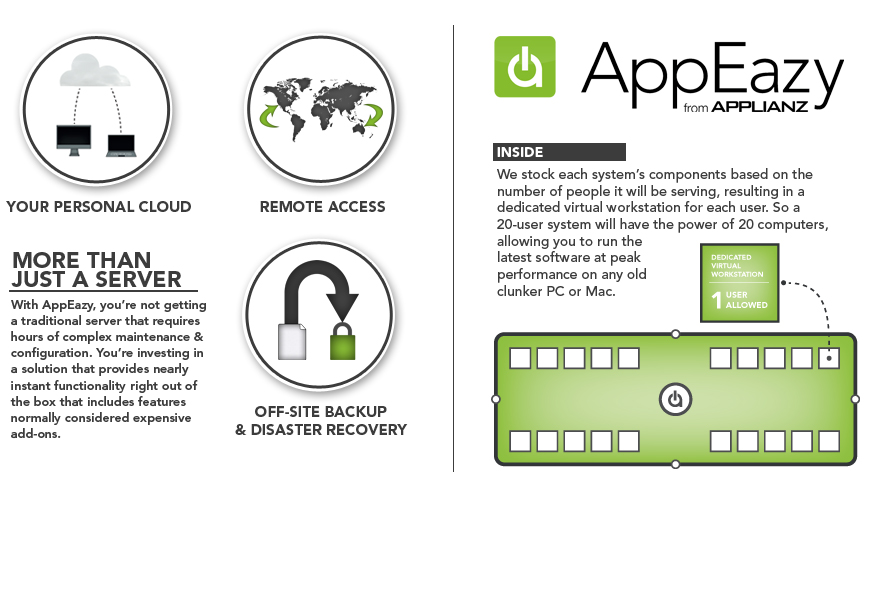 ---